COVID-19 Vaccine Distribution in the EOHU Region
Read the message from the Medical Officer of Health on the distribution of COVID-19 vaccines.
The EOHU continues to receive a limited supply of COVID-19 vaccines, which are being distributed in accordance with Ontario's mandated vaccine roll-out plan. See General Information on COVID-19 Vaccines.
It will take time for COVID-19 vaccines to be distributed to everyone in the community. Currently there are no COVID-19 vaccine clinics available to the public within the EOHU region and there is no waiting list to receive the vaccine. The EOHU will notify the public as the vaccine becomes available to different population groups. Please follow us on social media and visit our website often at www.EOHU.ca/vaccines. We will also work with community and municipal partners to ensure residents within the EOHU region are informed.
Over time, the vaccine supply will increase so that all Ontarians who wish to be immunized will have access to a vaccine. It is anticipated that by this fall (or sooner), anyone in the EOHU region who wants a vaccine will have access to one. The timelines indicated below are estimates based on currently approved vaccines. As more vaccines are approved, timelines may be shorter. Visit the Government of Ontario's website for up-to-date information on the vaccine and implementation phases.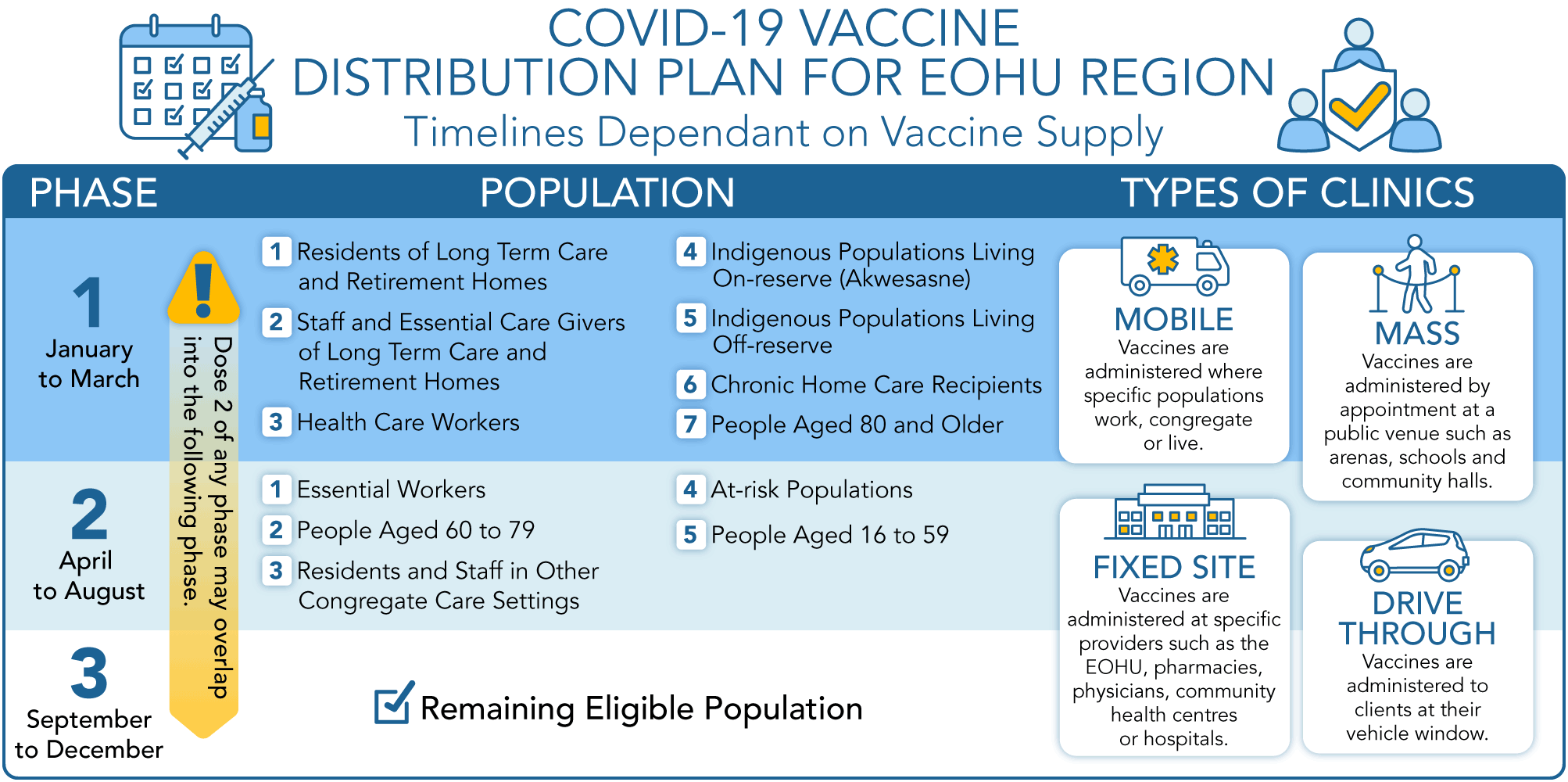 Current Status of Vaccine Distribution in the EOHU Region
Prioritization of Phase 1 Priority Populations
Ontario made adjustments to its vaccination plan in light of the unexpected reduction in supply of vaccines. Given the expected gradual increase in Ontario's vaccine supply, the next target groups within the Phase 1 priority populations have been identified for vaccination:
Immediate priority for first-dose vaccination:
Next priority for first-dose vaccination:
When all reasonable steps have been taken to complete first-dose vaccinations of all staff, essential caregivers and residents of long-term care homes, high-risk retirement homes and First Nations elder care homes, first-dose vaccinations may be made available to the remainder of the Phase 1 populations:
Second Dose Intervals:
To increase the availability of first doses during this supply-limited time, all second doses for the Pfizer-BioNTech and Moderna COVID-19 vaccines will be administered up to 16 weeks after the administration of the first dose, in accordance with the latest NACI recommendations.
Priority Health Sectors and Workers
The Guidance for Prioritizing Health Care Workers for COVID-19 Vaccination identifies Health Care Workers (HCW) as a priority population for Phase 1 of Ontario's vaccination program.
The following levels of priority (Highest, Very High, High, Moderate) have been identified by the Ministry of Health and should be used to sub-prioritize health care workers. There may be overlap between the priority levels, and efforts should be made to follow the sequencing and provincial direction as closely as possible starting with individuals who fall into the Highest Priority level.
Highest Priority
Sectors and Settings
Frontline health care workers in the following sectors and settings (including custodial, reception, and other staff):
All hospital and acute care staff in frontline roles with COVID-19 patients and/or with a high-risk of exposure to COVID-19, including those performing aerosol-generating procedures:

Critical Care Units
Emergency Departments and Urgent Care Departments
COVID-19 Medical Units
Code Blue Teams, rapid response teams
General internal medicine and other specialists involved in the direct care of COVID-19 positive patients

All patient-facing health care workers involved in the COVID-19 response:

COVID-19 Specimen Collection Centers (e.g., Assessment centers, community COVID-19 testing locations)
Teams supporting outbreak response (e.g., IPAC teams supporting outbreak management, inspectors in the patient environment, redeployed health care workers supporting outbreaks or staffing crisis in congregate living settings)
COVID-19 vaccine clinics and mobile immunization teams
Mobile Testing Teams
COVID-19 Isolation Centers
COVID-19 Laboratory Services

Medical First Responders (ORNGE, paramedics, firefighters providing medical first response).
Community health care workers serving specialized populations including:

Needle exchange/syringe programs & supervised consumption and treatment services
Aboriginal Health Access Centers, Indigenous Community Health Centers, Indigenous Interprofessional Primary Care Teams, and Indigenous Nurse Practitioner-Led Clinics
Special considerations for the following:

Community Health Centers serving disproportionally affected communities and/or communities experiencing highest burden of health, social and economic impacts from COVID-19
Highly critical health care workers in remote and hard to access communities, e.g., sole practitioner

Home and community care health care workers caring for recipients of chronic homecare and seniors in congregate living facilities or providing hands-on care to COVID-19 patients in the community
Very High Priority
Sectors and Settings
Frontline health care workers in the following sectors and settings:
Acute care and other hospital settings (patient care areas not included in Highest Priority (e.g., surgical care, obstetrics, etc.)).
Congregate settings (assisted living, correctional settings, residential facilities, hospices and palliative care settings, shelters, supportive housing (outside of Highest Priority level)).
Community care with high risk of exposure and serving specialized patient populations (Community Health Centers, Home and community care (outside of the Highest Priority level), Adult day programs for seniors).
Other health care services for Indigenous populations (Community agencies with patient-facing providers delivering any type of health services to First Nations communities and Indigenous Peoples that are not captured in Highest Priority).
Community care with high risk of exposure and serving the general population (Birth centres, Community Based Specialists, Death investigation professionals, Dentistry, Gynecology/obstetrics, Midwifery, Nurse practitioner-led clinics / contract nursing agencies, Otolaryngology (ENT), Pharmacies, Primary care, Respirology (Respiratory Therapy), Walk-in clinics,).
Laboratory services
High Priority
Sectors and Settings
Frontline health care workers in the following settings and sectors:
Community care with lower risk of exposure and serving special populations (developmental services, mental health and addictions services).
Community care with lower risk of exposure and serving general population Campus health, Community diagnostic imaging, Daycare/school nursing, Dietary / nutrition, Independent health facilities (e.g., Opticians/Optometry, Podiatry, Audiology, medical and surgical specialties), Naturopathy / Holistic care, Social work, Sexual health clinics).
Non-acute rehabilitation and therapy (Chiropractic, Chronic pain clinics, Kinesiology, Occupational therapy, Physiotherapy, Psychiatry, Psychology, Psychotherapy, Registered massage therapy / Acupuncture, Other therapy).
Public health (all other public health).
Moderate Priority
Sectors and Settings
Non-Frontline health care workers (e.g., those working remotely and who do not require PPE to work).
Notifying the public as population groups become eligible
Information is rapidly changing. To help the public know what to expect, the EOHU will provide updates as quickly as possible about the COVID-19 vaccine distribution, timelines, and eligibility. Once mass immunization clinics begin, the EOHU along with community and municipal partners, will share information about the clinics, including how and where to get vaccinated. Keep informed:
Related information