Dr. Paul's Vax Facts

If you haven't been vaccinated yet, if you have concerns, if you have questions… we encourage you to read on. A series of articles about the COVID-19 vaccine will be shared here over the coming days and weeks.
---
---
Containing the Fourth Wave with Increased Rates of Fully Vaccinated Residents
We are now seeing local COVID-19 case numbers creep back up, officially bringing us into this fourth wave. The biggest difference between this wave and previous ones is the number of people that are vaccinated vs. unvaccinated and the presence of the Delta variant. 
As of September 8th, 2021, current data showed that 85% of eligible residents within the EOHU region had received at least one dose of a COVID-19 vaccine — while 78.3% were fully vaccinated. Data shows the majority of Ontarians facing severe outcomes related to COVID-19 are unvaccinated or only partially protected (Figure 1).
The first dose of the COVID-19 vaccine gives good, but only partial protection. The second dose is what will boost the first one to give optimal protection. We also know that the Delta variant responds well to the vaccine, but only after the second dose. Therefore, it is important to get the second dose.
Figure 1: Proportion of confirmed COVID-19 cases, hospitalizations (including intensive care unit admissions), and deaths among unvaccinated, partially vaccinated, and breakthrough (fully vaccinated) cases: Ontario, December 14, 2020 to August 7, 2021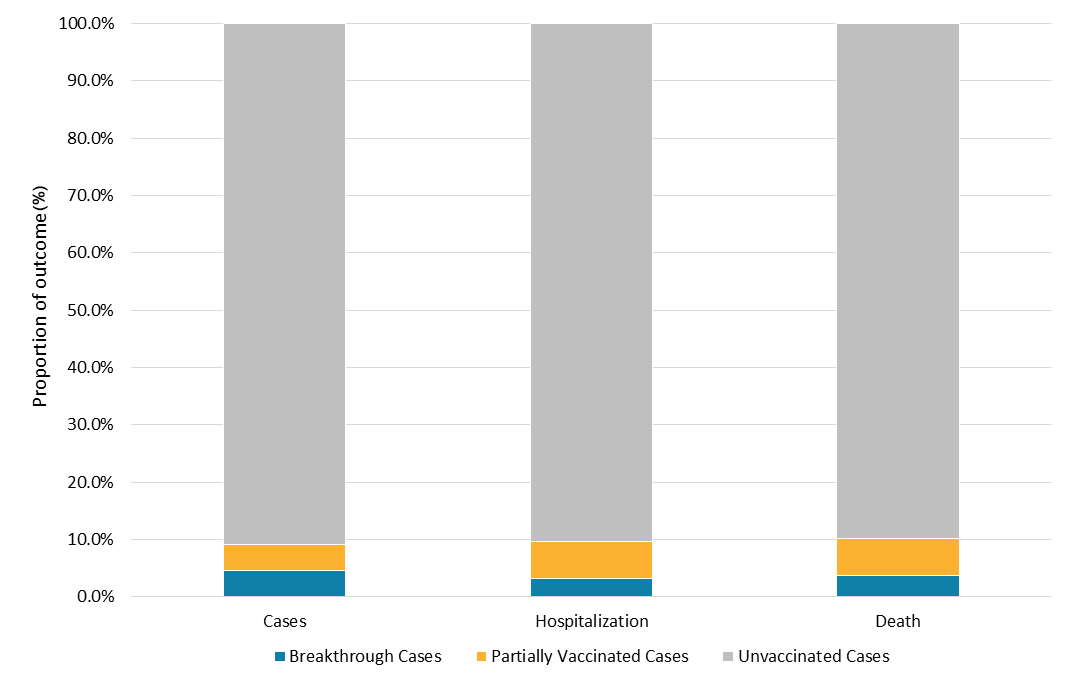 Source: Ontario Agency for Health Protection and Promotion (Public Health Ontario). Confirmed cases of COVID-19 following vaccination in Ontario: December 14, 2020 to August 7, 2021. Toronto, ON: Queen's Printer for Ontario; 2021.
---
The Second Dose Trifecta: Protection from Delta, Lower Severity of Illness & Decreased Hospitalizations
As with any immunization, when you receive a COVID-19 vaccine, protection from infection does not happen immediately. Immunity develops over time. The COVID-19 vaccine is very effective (60-80%) at preventing COVID-19 infection 3-4 weeks after receiving a single dose. Following the second dose, this protection increases (greater than 85%).
The vaccine has been shown to be effective against the Delta variant. This, however, is only true for individuals who have received two doses. Those who have received only one dose are still at great risk of infection. Fully vaccinated individuals (14 days after receiving the second dose) benefit from protection against the Delta and other currently known variants.
In the slight chance that COVID-19 cases occur in fully vaccinated individuals, the vaccines are shown to reduce the severity of illness, if symptomatic at all. This in turn reduces transmission because these breakthrough cases have a decreased viral load and are not shedding it as much.
Full vaccination offers substantial protection against severe health outcome needing hospital care. Unvaccinated people have a 30-fold higher risk of being in the hospital and 48-fold higher risk of being in the ICU compared to the fully vaccinated (Figure 1). Increasing the rate of full vaccination will help ensure hospitals don't become overwhelmed.
Figure 1. Analysis: Secretariat of the Science Advisory Table (https://covid19-sciencetable.ca/ontario-dashboard/). Data: https://data.ontario.ca/ and CCM plus; estimates of patients in hospital and ICU are age standardized.

Source: https://covid19-sciencetable.ca/wp-content/uploads/2021/09/Update-on-COVID-19-Projections_2021.09.01_English-1.pdf
---
Dr. Paul explains Breakthrough Infections: Still Benefitting from the Protection of the Vaccine in the next Vax Facts, coming Friday September 17th, 2021.