Public Health Advice: Protecting Yourself and Your Family
What You Need To Do
Continued Precautions
Choosing Lower Risk Activities During COVID-19
Gatherings
Travel
To prevent the spread of COVID-19, businesses must also implement the public health measures and restrictions outlined in Reopening Ontario.
What You Need To Do
The Eastern Ontario Health Unit is recommending that all residents of the region practise physical (social) distancing and stay home as much as possible.

Limit close contact to your household (the people you live with).

Individuals who live alone, including seniors, may consider having exclusive, close contact with another household to help reduce the negative impacts of social isolation.

Maintain two metres of physical distancing from everyone else.

Wash your hands often with soap and water or alcohol-based hand sanitizer.
Sneeze and cough into your elbow or a tissue, not your hand.
Avoid touching your eyes, nose, and mouth unless you have just cleaned your hands.
Stay/work at home as much as possible and avoid non-essential outings. Every time you leave your home, you increase your risk of getting or spreading COVID-19.
Order your groceries or other necessities online if possible.
If you must go out to shop for essentials: limit trips to once a week or less, avoid going to multiple stores, and follow recommendations for safe shopping.
Use a face covering (non-medical mask) when keeping two-metres' distance from others may be challenging or not possible. The use of face coverings or face masks is required in public areas of an enclosed space.
Avoid contact with people who are sick, and stay home if you or a member of your household are sick.
Get tested if you have symptoms compatible with COVID-19, or if you've been advised of exposure by your local public health unit or through the COVID Alert mobile app.
Check in on family, friends and neighbours by phone or online.
If you go outdoors for a walk or other physical activity, or to walk your pet:   

You can walk or exercise alongside other members of your home (e.g. spouse, children), as long as they are allowed to leave the home (see above).
Avoid crowds and always practise physical (social) distancing by keeping at least 2 metres distance from other people at all times, unless you are walking with someone that you live with.
Solo physical activities such as jogging or cycling are safe and recommended. For the latest provincial requirements on fitness classes, group or personal training, consult Ontario's Roadmap to Reopen: Public Health Measures in Effect.
While you are out, avoid touching handrails or other commonly touched surfaces
Remember to practise hand hygiene and sneeze or cough into your sleeve or a tissue.
Wash your hands as soon as you get home.

If you live in an apartment, you should take precautions if you go outdoors:

Wear a face covering when in common areas of the apartment buildings, such as lobbies, hallways, elevators, stairwells, laundry rooms and public bathrooms.
Avoid or minimize contact with commonly touched surfaces such as doorknobs, handrails, and elevator buttons. Use hand sanitizer after touching surfaces such as these while you are out.
Avoid using elevators if possible; if you do use an elevator, try to keep as large a distance as possible between you and any other people using the elevator. Do not enter the elevator if it is crowded.
When you return home, make sure to wash your hands with soap and water right away and remove mask safely.
Continued Precautions
After months of being in isolation, we are all experiencing "pandemic fatigue" and want things to return to normal. However, the pandemic isn't over yet and now is not the time to let your guard down.
Continue to take the infection prevention measures recommended by public health, such as wearing a mask in enclosed public spaces, maintaining a distance of 2 metres (6 feet) from others in public, and washing your hands often.
As a growing number of establishments open their doors, people are starting to go out more. Take the time to assess the level of risk associated with various activities. Make an informed decision about whether or not to participate in an activity based on the level of risk.
If you don't feel comfortable enough to head out and participate in more activities, that's a perfectly normal feeling. Give yourself the time you need to feel comfortable participating in the same activities you did before the pandemic began.
Choosing Lower Risk Activities During COVID-19
Shorter amount of TIME = lower risk
More SPACE around you = lower risk
Fewer PEOPLE = lower risk
Outdoor, no touching PLACE = lower risk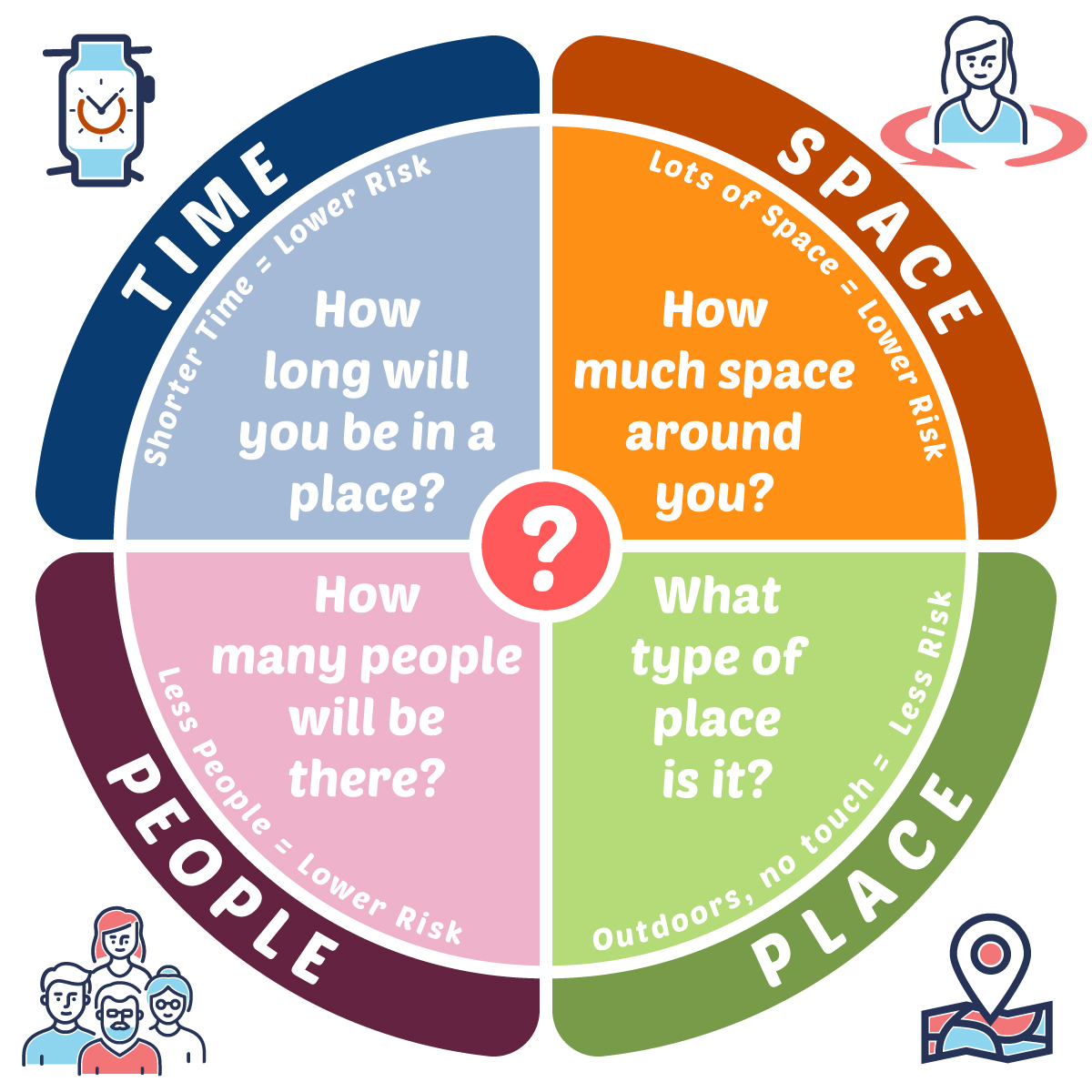 Make sure that you get high-quality information about COVID-19 from reliable sources:
Gatherings
Gatherings have the potential for serious public health consequences if they are not planned and managed carefully. They can increase the spread of infectious diseases and cause additional strain on the health care system when held during outbreaks.
To help stop the spread of COVID-19, the Eastern Ontario Health Unit is recommending that everyone limit social gatherings in accordance with the province's reopening plan. Do not allow visitors in your home (exception: individuals who live alone, including seniors, may consider having exclusive, close contact with another household to help reduce the negative impacts of social isolation.).
Virtual gatherings or events are the safest way to visit or recognize occasions with people outside your household. If you choose to hold or participate in an in-person gathering or event with people outside your household, you should take precautions to reduce the risk of COVID-19 transmission:
Stay home if you have symptoms, even if they are mild or you recently had a negative COVID-19 test.
Limit close contacts to your household or the people you live with.
Maintain two metres of physical distancing from those outside of your direct household, regardless of location.
Gatherings or events outdoors are safer than indoors.
Wear a face covering indoors and wear one outdoors if physical distancing may not be maintained or if wearing one is required.
Wash your hands thoroughly and regularly.
Cover your cough.
Limit your gathering size: The fewer people you have, the lower the risk of COVID-19 transmission.
The Government of Canada has created a Risk mitigation tool for gatherings and events operating during the COVID-19 pandemic.
Travel
Travel within Ontario
Individuals and families in higher transmission areas should avoid travel to lower transmission areas (e.g. from Red to Orange, from Yellow to Green) except for essential reasons.
Inter-provincial Travel
Staying home is the best way to protect yourself and others.
Individuals and families who consider travelling to another province for essential reasons should:

Consider the risk associated with travelling. This includes COVID-19 transmission in the other province, entry requirements (e.g. quarantine) of some other provinces, etc.
Self-quarantine, or drastically reduce close contact with others 10 to 14 days before travelling and after returning home. This will help lower the risk of exposure to COVID-19.

Follow general (Ontario) public health advice, as well as any rules and regulations of the other province.
Related information