Fentanyl
---
Fentanyl is a highly toxic and dangerous man-made drug that can be found in two forms: the prescription medicine, and the bootleg (illicit) non-prescription street drug.
Prescription fentanyl
Prescription fentanyl is an opioid drug. Opioids are used to treat acute and ongoing severe pain. Opioids are a depressant drug. This means they can be dangerous when not used as prescribed by a medical professional as they slow down the part of the brain that controls breathing. Prescription fentanyl comes in the form of either patches or liquid and is manufactured under strict guidelines in a controlled environment. It is about 100 times more toxic than morphine and unsafe if not used as prescribed or for prescribed purposes.
In this light, if you have prescription fentanyl in your home, make sure you store it out of the reach of children in order to avoid unintentional poisonings. If your kids are older, keep track of the prescription medications in your medicine cabinet as they could take them to get high. And if you have expired, unwanted or unused prescription fentanyl, your best bet to keep your family and pets safe is to return it to a pharmacy. If you live in the Cornwall area, you can also drop off your unused medications at Medi Drop collection boxes located throughout the city.
Bootleg (illicit) fentanyl
Bootleg fentanyl is the non-prescription version of the drug. This street drug is extremely dangerous and can be found in multiple forms such as straight powder, in a press pill or hidden in other street drugs like cocaine, crystal meth, or heroin. Recently, it has been detected in the drug known as purple, purp, purple fentanyl or purple heroin. It can also be sold on the street as a different form of counterfeit pain medication like Oxycontin or Percocet. The fact is you never really know what you're getting when you buy street drugs.
Bootleg fentanyl has caused hundreds of deaths throughout Canada. The powder is the purest form the drug comes in and it only takes an extremely small amount, the equivalent of two grains of salt, to kill someone. This makes the risk of overdosing on bootleg fentanyl extremely high.
There are several reasons why bootleg fentanyl is so dangerous. As opposed to prescription fentanyl, the bootleg version is made in underground labs where there is little control over the quality of the drug being made. In addition, there are currently many different types of bootleg fentanyl, each one having a different level of toxicity. One of the types, a drug called carfentanil, can be as much as 10,000 times more toxic than morphine.
---
What is a naloxone opioid overdose prevention kit?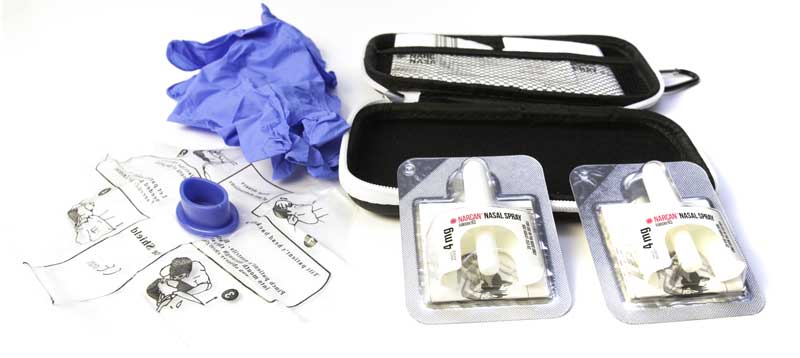 Naloxone is the drug used to stop an overdose from fentanyl or other opioids. The drug comes in a kit containing the following:
non-latex gloves
a rescue breathing barrier
product monograph
two doses of nasal spray naloxone
one identifier card
A naloxone kit is used to stop someone from overdosing and allow time for the person to get to a hospital to receive medical treatment in order to save their life. Along with chest compressions, it can help revive someone who has overdosed on opioids like fentanyl, heroin, morphine, or opium. If you have a naloxone kit, you should always carry it with you, especially if you're going to be using opioids or other substances. Naloxone should be stored at room temperature and in the dark. Keeping it in the container it comes in will preserve it well.
Naloxone kits are available at some local pharmacies and at the Eastern Ontario Health Unit (EOHU). To find the nearest pharmacy carrying naloxone, visit www.Ontario.ca/OpioidOverdose. If you are an opioid user or a friend or family member of an opioid user, you can pick up a naloxone kit at the EOHU. Simply ask for one at reception and a staff member will provide the required training. The kit is available free of charge.
---
The signs of an opioid overdose
Fentanyl is an opioid, which means that it slows down the part of the brain that controls breathing. An opioid overdose can result in death because breathing stops. People having an overdose from opioid pain medications such as fentanyl will have one or more of the following signs:
They may be nodding off, not waking up easily, or unresponsive
They may be breathing very slowly or not at all
Their lips and fingernails are blue/grey
Their skin is cold and clammy
Their body may be limp, possibly very tense or they may be shaking
They may be snoring or gurgling
They may foam at the mouth or throw up
---
How you can help someone having an opioid overdose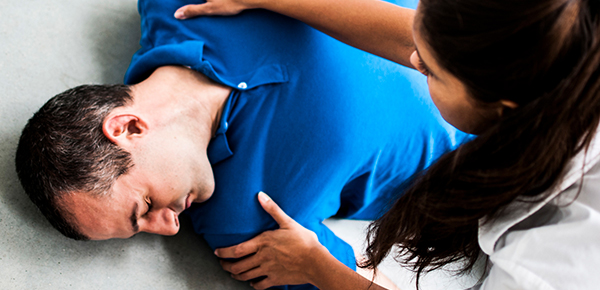 If you suspect someone is having an opioid overdose, taking the following steps can help save their life:
Call 9-1-1
Use a naloxone opioid overdose prevention kit
Shake and shout (try to stimulate the person so they wake up)
Use chest compressions until the arrival of first responders
Place the person in the recovery position if they wake up (see how to do this below)
Since naloxone reverses the effects of opioids, the person who is administered the drug will go into opioid withdrawal and experience the following symptoms:
Nervousness
Restlessness
Body aches
Diarrhea
Nausea and stomach pain
Withdrawal symptoms normally last about a week and may also include anxiety, insomnia and drug cravings.
Can I harm someone by administering naloxone?
Naloxone is very safe, and serious side effects are rare. If a person is not breathing and you suspect an opioid overdose, it is safe to administer naloxone.  Giving naloxone to someone who is not having an opioid overdose will NOT hurt the person; it will simply have no effect.
How you can put someone who has overdosed in the recovery position
Step 1: Put the person's arm that is closest to you at a 90 degree angle and tuck behind their head as a pillow, cross the other arm over their chest, and raise the furthest knee at an almost 90 degree angle.
Step 2: Grab the person's furthest leg and arm. Move them towards you (the person should roll towards you).
Step 3: Put the person in a comfortable position that supports their head. Stay with the person until help arrives.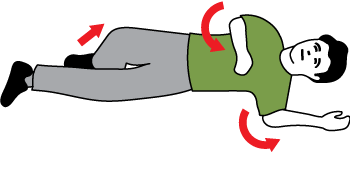 ---
EOHU Harm Reduction Strategy
The naloxone kit distribution program is just one element of the EOHU's harm reduction strategy, which provides drug users with harm reduction materials, safe injection equipment, education and the support they need to reduce the harms associated with drug use.
Materials available to decrease the risk of blood borne infections such as Hep C and HIV include:
needles
tourniquets
sterile water
vitamin C (acidifiers)
cookers
alcohol swabs
crack pipes (glass stems)
screens
mouthpieces
For more information about the naloxone kit distribution program and the EOHU's harm reduction programs, call 613-933-1375 or 1-800-267-7120.
---