How to prevent tick bites when working or enjoying the outdoors
You can reduce the risk of contact with – and bites from – blacklegged ticks by taking a few simple precautions.
Take the following measures to discourage the presence of ticks around your home:
Keep your grass mowed short.
Trim bushes and tree branches to let in sunlight as ticks avoid hot and dry locations.
Create a border of gravel or woodchips one metre or wider around your yard if you're next to a wooded area, or one with tall grasses.
Remove leaf litter, brush and weeds at the edge of the lawn and from stone walls and wood piles.
Clean up areas under and around bird feeders, to reduce the attraction of small critters such as mice and voles.
Discourage deer from entering your yard, as ticks also feed on these animals.
Move children's swing sets, playground equipment and sandboxes away from wooded areas (consider placing equipment on a woodchip or mulch foundation).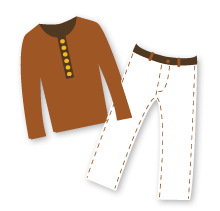 Here are some more measures you can take to keep ticks off you and your family members:
Wear light-coloured clothing. It makes ticks easier to spot.
Wear closed footwear, socks, a long-sleeved shirt and long pants. Tuck your shirt into your pants, and tuck your pants into your socks.
Use an insect repellent that has DEET or Icaridin on clothes and exposed skin (be sure to read and follow the manufacturer's directions).
Search your clothes and body for ticks after being outdoors, especially if you were in an area where there's tall grass or shrubs, or where ticks are known to live. Pay special attention to areas like the groin, navel, armpits, scalp and behind the ears and knees. Use a mirror to check the back of your body, or have someone else check for you. Don't forget to tick-check your children as well!
Take a shower as soon as you can after being outdoors to more easily find and wash off any ticks crawling on you.
Ticks thrive in wet environments. Before washing outdoor clothes, put them in a dryer on high heat for 60 minutes to kill any ticks.
---
CORNWALL • ALEXANDRIA • CASSELMAN • HAWKESBURY • ROCKLAND • WINCHESTER
© EOHU. All rights reserved.
If you require this information in an alternate format, please call 1 800 267-7120 and press 0.