Car Seat Safety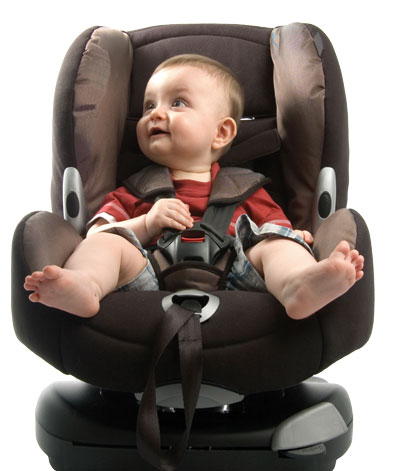 Every year, motor vehicle crashes claim the lives of children. The proper use of a car seat could save lives.
According to Transport Canada, children are 70% less likely to suffer serious injury and 90% less likely to die in the event of a crash if they are transported in correctly installed car seats. Make sure you read your car seat manual and your vehicle manual as they provide the information you need to install your car seat safely.
Your baby needs a rear-facing car seat, as rear-facing car seats are designed to support your baby's neck in a sudden stop or crash. Keep your baby in a rear-facing car seat until he is:
At least 10 kg (22 lb) AND
At least 1 year of age (see car manufacturer instructions for specific age recommendation) AND
Walking unassisted

Your car seat may allow your baby to be rear-facing beyond the above minimum recommendations. The longer your baby remains in the rear-facing position the safer your baby will be.
Child seats and booster seats sold in the U.S. and other countries do not meet Canadian federal regulations and, under provincial and territorial legislation, are illegal to use in Canada. All restraints manufactured for sale in Canada must have the National Safety Mark.
Used Car Seats
Under the Canada Consumer Product Safety Act, it is illegal to buy, sell, give or lend a child seat or booster seat made before January 1, 2012, as it does not meet the latest requirements set out by Health Canada.
Used car seats are often missing parts and/or instructions. It's hard to know if there has been a recall on a used seat or if the seat has been involved in a collision.
For more information, please visit Transport Canada at www.tc.gc.ca, the Eastern Ontario Health Unit at www.EOHU.ca, or call 613-933-1375 or 1-800-267-7120.

CORNWALL • ALEXANDRIA • CASSELMAN • HAWKESBURY • ROCKLAND • WINCHESTER
© EOHU. All rights reserved.
If you require this information in an alternate format, please call 1 800 267-7120 and press 0.