Mental Health in Eastern Ontario
On this page:
What is mental health?
What is mental health promotion?
What is the role of the EOHU in mental health promotion?
EOHU Population Mental Health Survey and Results
More information
What is mental health?
Mental health is a state of mental well-being and refers to the range of emotions, thoughts, and feelings that everyone experiences. It exists on a continuum and can fluctuate based on many factors. Positive mental health enhances our ability to enjoy life and deal with the challenges we face.
A mental illness is a condition diagnosed by a qualified healthcare professional. Mental health and mental illness can co-exist but are separate.
The dual continuum of mental health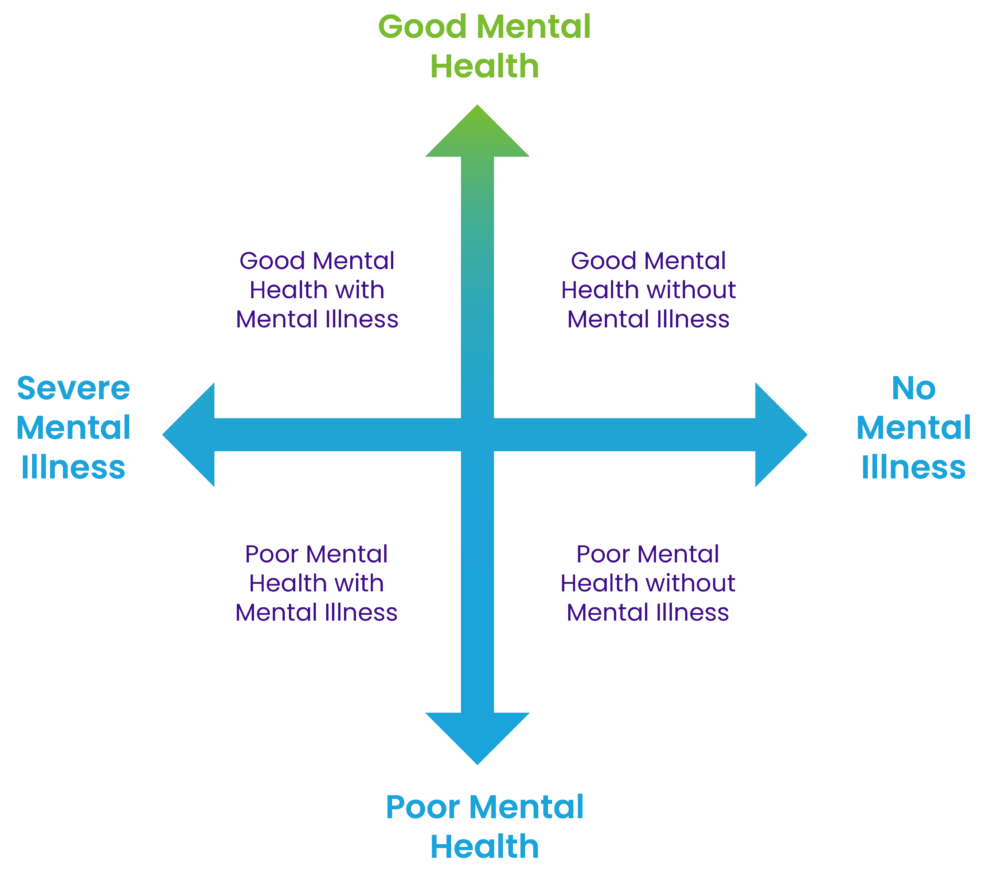 Image adapted from: School Mental Health Ontario
What is mental health promotion?
Mental health promotion:
Focuses on the enhancement of well-being rather than on illness.
Addresses the population as a whole, including people experiencing risk conditions, in the context of everyday life.
Takes action on the determinants of health.
Broadens the focus to include protective factors, rather than simply focusing on risk factors and conditions.
Includes a wide range of strategies such as communication, education, and policy development.
Acknowledges and reinforces the competencies of the population.
Encompasses the health and social sectors.
Uses strategies that foster supportive environments and individual resilience while demonstrating respect for culture, equity, social justice, interconnections, and personal dignity.
Promoting positive mental health also increases access to health and social services, improves physical health and helps to reduce the stigma of mental health.
What is the role of the EOHU in mental health promotion?
The Ontario Public Health Standards outline mental health promotion as an area of consideration for public health and provide a Mental Health Promotion Guideline.
The EOHU has identified mental health as a top priority and is committed to promoting positive mental health by enhancing the capacity of individuals to improve their psychological well-being, competence and resilience and by creating supportive living conditions and environments.
A comprehensive approach to population mental health includes three tiers of action including (1) promoting mental health, (2) preventing mental illness, and (3) treating mental illness.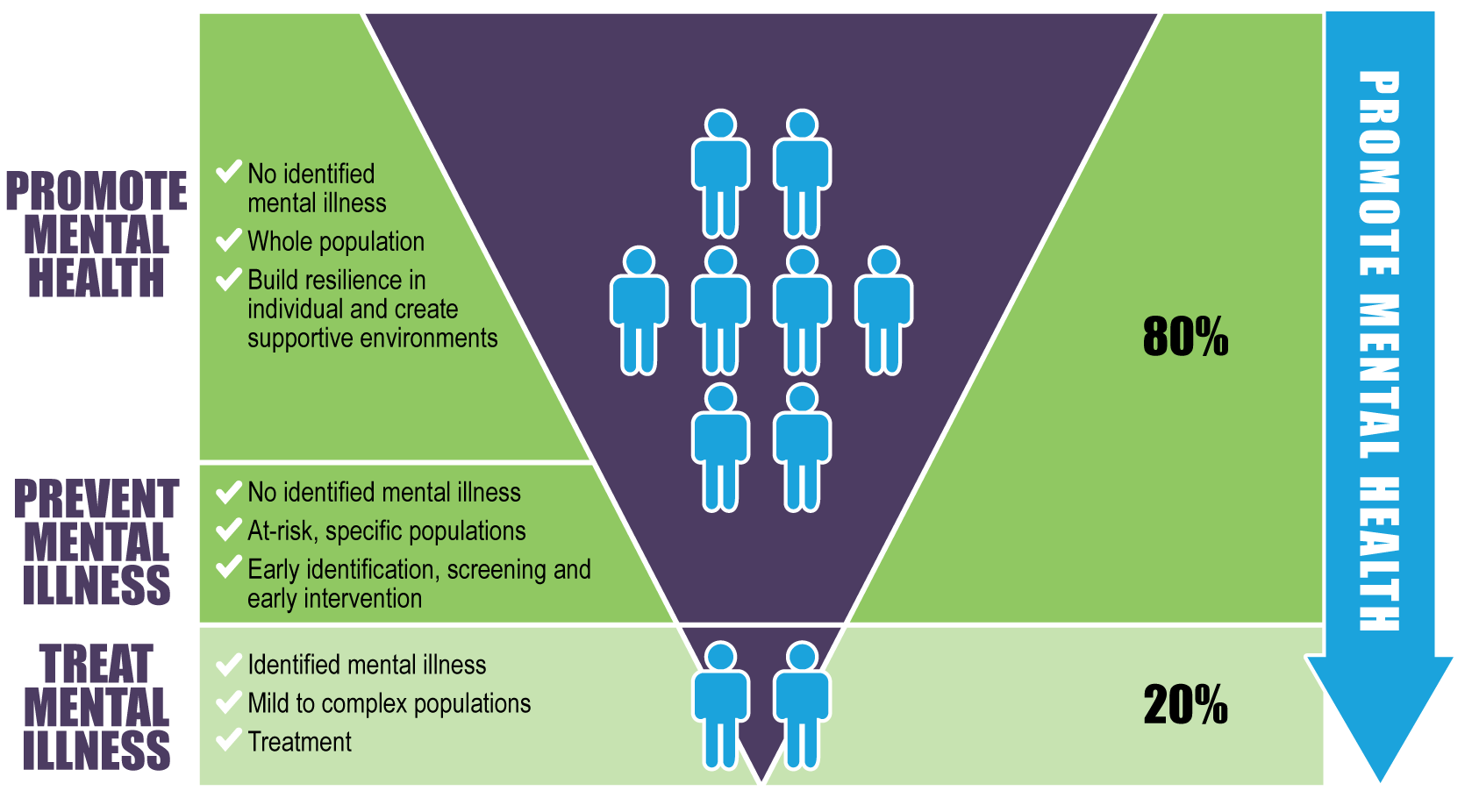 Image adapted from: Centre for Addiction and Mental Health
The role of the EOHU centres on promoting mental health and preventing mental illness but can extend as far as early identification and referrals. Public health doesn't typically deliver early intervention and treatment services, although there may be some cases in which it is appropriate.
EOHU Population Mental Health Survey and Results
A survey was conducted in the fall of 2022 to gain a better picture of the state of our population's mental health as well as the needs and challenges faced by our community.
Methods and demographics
The EOHU used telephone, email and in-person opportunities to anonymously survey a representative sample (2,185) of individuals 18 years of age and over who live within the EOHU catchment area about their mental health status and experiences with accessing and receiving mental health care.
 
Results are presented for the EOHU region and sub-regions: the City of Cornwall (Cornwall), the United Counties of Stormont, Dundas & Glengarry (UCSDG), the United Counties of Prescott and Russell (UCPR) excluding the Town of Hawkesbury (Hawkesbury) which is presented separately.
The results are based on unweighted data using a statistically significant sample size for the EOHU region and sub-regions noted above.
Results: EOHU population mental health summaries
As part of World Mental Health Day 2023 celebrations, the EOHU launched the first in a series of six summaries to share survey results with community partners and the public. Results are helping the EOHU and community partners assess and inform current and future mental health promotion strategies, programs and services.
Visit this webpage regularly for the following summary releases. Summaries are accessible and intended to be easy to understand and use. Specific datasets may be requested at info@eohu.ca.
For more information:
About mental health (Canada.ca)
Promoting positive mental health (Canada.ca)
The Mental Health Continuum Self-Check
Fast Facts about Mental Health and Mental Illness
Mental Health Promotion Guideline, 2018